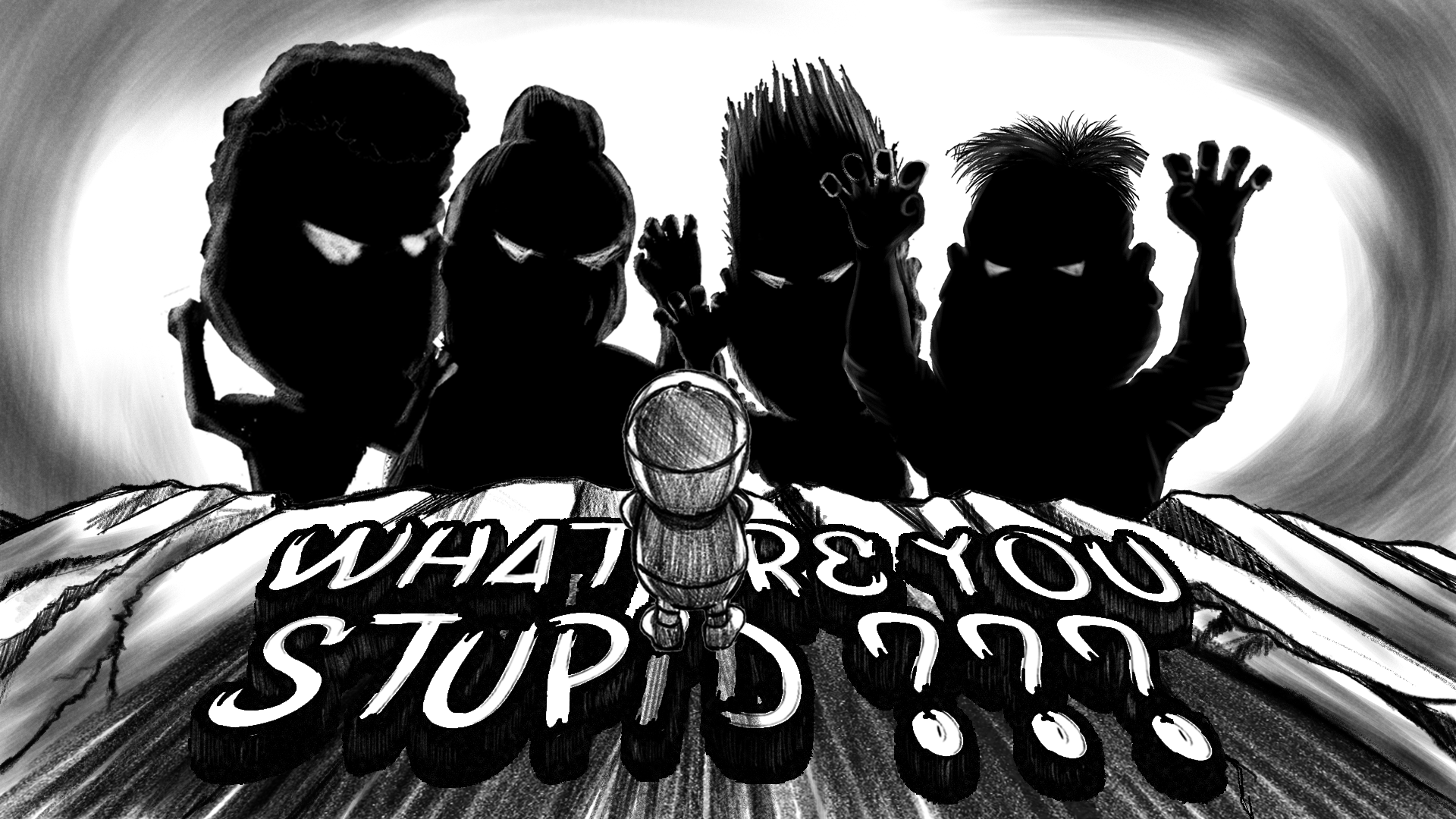 What Are You Stupid (Early Access)
A downloadable game for Windows and macOS
Prepare to get your knowledge tested by 15 wacky characters in a 1-on-1 quiz battle format, each with their own theme and unique personality. Brace yourself and do well or get humiliated by them. Inspired by old comic stripes, 'What Are You Stupid' is presented using 100% hand-drawn art. The minimalist style will immerse players with nostalgic experiences throughout the game.
Demo fully playable up to 4 characters
| | |
| --- | --- |
| Published | 14 days ago |
| Status | In development |
| Platforms | Windows, macOS |
| Publisher | Realita Gaming |
| Release date | in 58 days |
| Rating | |
| Author | Beat-Fu Studio |
| Genre | Puzzle |
| Tags | black-and-white, Casual, Comedy, Fast-Paced, Funny, Hand-drawn, Minimalist, quiz, trivia, Unity |
| Average session | About an hour |
| Languages | English |
| Inputs | Mouse |
| Links | Twitter |
Install instructions
Unzip all the files and play it !
Download
Comments
Log in with your itch.io account to leave a comment.
This was really enjoyable to play! The facial expressions, art... It was amusing and fit perfectly with the goal! I cannot wait for the full release.

I'm glad you do, comments like this really drives us to go even crazier on our development !
Cheers!
Love it! I've wanted more quiz show based games, and finally one that doesn't revolve around a GSN gameshow. It's fun, the art is fantastic, the style of fighting the challenger is really cool, and each character having their unique personalities based around the categories is great! Can't wait to play more, great work!
You are the first one to put ASS and figured out the "special" sound on it
"Did you know that you could hear a Meow when you are a CAT ?" ~Dad
Cheers!
Haha, I would be the one to do it first, smh. Anyway, I greatly look forward to seeing and recording the next stage of characters, 4 down, and I can see the next stage is going to be a tough one!
This was really fun, love the art style and that I managed to guess my way to victory, haha.
One problem I did have was that upon starting the game the audio jumped back up to normal volume after I'd turned it down- but otherwise it was enjoyable.
Hello Arctos,
Nice catch there, It is actually loading the last volume setting that you've saved on that slot. You could adjust it after you enter the last save game under the gear icon on the top left corner.
Cheers!
PS: Love your accent !
The hand-drawn art is freakin' fantastic. I played this with a friend and we had a good time.
Did a review on it to tell our fans. Worthy of wayyyyyy more attention =]. Keep it up!
I'm glad you like it, your review totally made my day,
Likewise for your game- it actually resonated pretty well with me (not sure if that's good or bad) >.>
Changes 0.98_Build 34
- Added smooth video playback
- Increased Video Quality to 1920x1080
- Added more compatibility to most video player
- Add better descriptions and dialogues
- Fixed Intro's volume suddenly goes down
- Fixed many typos inside the quiz
- Fixed GameRoom when access from Room 2 can't return back
- Slightly increased Question Timer for most characters
- Added Mac OS X build
really fun something i haven't played before.
Glad you like it, Can't wait to see your reaction when the full roster of 15 characters are lining up for you !
This family took a well-deserve beating... :) Looking forward to the full release!

PS For anyone watching, please consider subscribing for a copious amounts of indie games.